Best Calendar App For Mac And Android
Posted By admin On 16.02.22
Despite its unassuming name and interface, Business Calendar is—by a good margin—our favorite calendar app on Android, due to its flexibility and ease of use.
Readdle has been selling a calendar app for nearly as long as Apple has been making the iPad, and that experience can be felt all throughout Calendars 5 ($7). Powerful, versatile, and just a. Whether you're looking for the best calendar app for Android or the best calendar app for iPhone, there's something for you here. Related: Best Android Apps. This one's iOS and Mac only. CloudMagic provides a unified inbox for all your email accounts including Gmail, Yahoo Mail, Outlook, iCloud, Google Apps, Microsoft Exchange, Office 365, AOL and other IMAP accounts. As with its iOS counterpart, the Android app has a nice, flat design and the app has a very easy setup process. On the contrary, it closes the useful list of 10 Best Employee Scheduling apps. Deputy is a simple and innovative workplace management solution for employee scheduling, time and attendance, team communication, task list, payroll and more.
Business Calendar
Platform: Android
Price: Free ($4.99 Pro)
Download Page
Features
Smooth scrolling calendar
Zoom into multi-day (1-14 days) views with a tap and drag
Choose between a graphical view (with colored boxes) or a text view (with the names of your actual events)
Month, agenda, day, and event views
Quickly fade certain calendars in and out with one tap shortcuts along the bottom
Search through events
Customizable widgets for month, week, day, and agenda views
Tap a day to see a quick popup of that day's events
Many options for recurring events
Drag and drop in multi-day view to copy events (Pro only)
Link contacts to an event (Pro only)
Plugins to support Google Tasks and Toodledo (Pro only)
Change font sizes (Pro only)
11 widget themes (Pro only)
Select individual calendars for each widget (Pro only)
Where It Excels
Business Calendar is not the most advanced calendar on the Play Store, but it's close—and its incredible interface is worth losing one or two features to the competition. Instead of having views for 'week', '4-day', 'month', and so on, you start with a month view and can tap and drag on a certain set of days to shrink the view to those days. It's really well done. Tapping on a specific day smoothly brings up a small pop-up of that day's events, and you can swipe to an agenda view if you'd rather see your month that way. Every time I tap a day, I'm shocked at how nicely everything works in this app.
Advertisement
It also lets you select certain 'shortcut' calendars to put along the bottom row. This lets you show and hide them with one tap, which is great for those one or two calendars you don't always want listed. The pro version can drag and drop events, which is really awesome if, say, you have the same event three days in a row and don't want to re-create it three times. Its widgets are also very pretty and functional. Basically, it's powerful and insanely easy to use, and much easier to navigate than pretty much any other calendar out there.
Where It Falls Short
Alone, it doesn't have a lot of cons, save for maybe some more advanced features when it comes to creating repeating events (though it still does a pretty good job of that too). Most of the things its missing are more personal preference than missing features. For example, it's not exactly the prettiest calendar app...but then again, few calendar apps are very pretty.
Advertisement
The Competition
Jorte (Free) is a close second, and its biggest strength over Business Calendar is the ability to show your tasks list under your calendar, and show your day's agenda under the month view when you click on it. It's a really nice way to see everything at once. It only syncs with Google Tasks, but if you're a Google Tasks user, it's pretty solid. It has a multitude of different views, and can also integrate with apps like Google Maps—if you add a location to your event, you can tap on that location to see it in the Maps app. Jorte is by far the most popular calendar app on the Market, and with good reason: it's free, has some nice features, and integrates with other apps, but it just doesn't hold up to Business Calendar's ease of use in our opinion.
Advertisement
aCalendar (Free, $3.99 Pro) is a popular app, with some nice features to go along with it. Its day and week view include small month views on the same page, which is handy, and it can even grab birthdays for your contacts and remind you of them. Its month view also shows the name of individual events rather than just a colored dot, which is nice—but tapping a day to expand doesn't work as well as in Jorte or Business Calendar It's a solid competitor if you're looking for something different.
Cal (Free), from the makers of Any.do, is a free option that is far prettier than its competitors—but unfortunately, it's a little confusing too. You navigate between day and month view with a vertical swipe, though the app doesn't tell you that, and its month view isn't very informative (since it doesn't show your calendar's colors or even individual events). It's very pretty, and it integrates with the Any.DO task manager nicely, but if you rely on your calendar a lot, it isn't our first choice.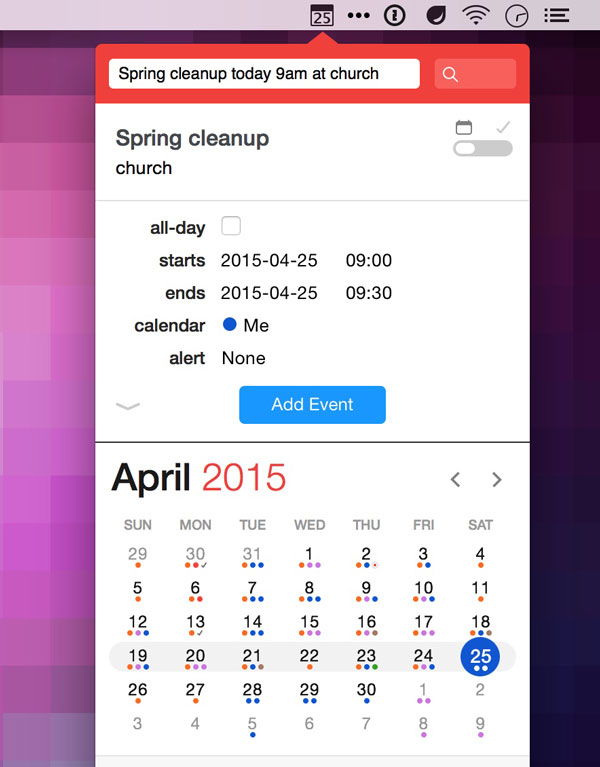 Advertisement
Calengoo ($5.99) is a good (albeit expensive) app for those that just want a quick glance at their calendar. Its views are very readable and its easy to jump back and forth betweent hem using tabs across the top. It also has an advanced 'repeating events' system, so its good if you add a lot of events from your phone.
Many of you are probably still using the stock Google Calendar app. It isn't a bad app, per se—it doesn't make you run for the hills looking for an alternative—but we promise you, once you try any of the above options, you won't go back. Google Calendar works well enough, but the interface is a little clunkier, and all your settings are very basic compared to the alternatives. If you ever use your calendar on your phone, we recommend taking a look at the alternatives above. You'll be glad you did.
Advertisement
Lifehacker's App Directory is a new and growing directory of recommendations for the best applications and tools in a number of given categories.
Advertisement
Now playing:

Watch this:

Stay on schedule with these calendar app alternatives
Editors' note, May 21, 2015: This post has been updated with more information.
Some time ago, Google released its calendar app for iPhone, something Android users have been able to use for a long time. Loved by many, the app has undergone a few redesigns over its lifespan on Android, but the iOS version matches up almost exactly to the current experience on Android.
It's true the calendar app that comes with your iPhone or Android phone will do you just fine if you need to know what's on your agenda, but they often don't do much more than that. The iOS calendar app, while simple and easy to use, doesn't give you many options to personalize it. And with most Androids, the preinstalled calendar is often a bland, unintuitive app built by your phone's manufacturer.
Google Calendar on iOS is definitely good news, but both app stores give you plenty of options to replace your default calendar. I've rounded up some of the best of the bunch, focusing on calendars that pack a lot of style without sacrificing features to see how they measure up to Google Calendar. But let's start off with the newest addition first.
Google Calendar
Free, iOS and Android
Google Calendar is old hat for many Android users, but not every Android smartphone comes with it.It was sorely missing for iOS for a long time, but now everyone can experience this well thought out time management app. One of the best things about it is that the layout and design is familiar if you already use Google Calendar on your computer and it has near feature parity on both smartphones. You can pick from a week, month, day and agenda view and each option gives you just enough information -- no more, no less.
You can sync multiple Google calendars, and if you've designated specific colors for each of your calendars on the Web, you'll see the same colors in the app. Also, adding a new event is as easy as it is on your computer -- just pick the date and time, choose which calendar (if applicable) and add the correct details.
What's great: Google Calendar carries over the same familiar design from the Web to your phone and it finally also works for iPhone.
What's not: If you have a lot of events on your calendar, the weekly view can get too cluttered to see each event. You cannot yet use it for iPad.
Cal
Free, iOS and Android
Cal is the prettiest app on this list, featuring colorful photo backgrounds intended to jazz up your boring calendar. Developed by Any.do, the company behind the sleek to-do app of the same name, Cal also sports a sleek, minimal design.
Cal's greatest strength is showing off your daily agenda -- basically all of the to-dos, meetings, and appointments you have on your plate on one given date. When you launch the app, it automatically jumps to today's agenda, which shows all of your events and Any.do tasks in a chronological list. This is different from other calendar apps, which show an hourly timeline with blocks of time shaded for each appointment. Whether Cal's layout works for you or not is a matter of personal preference, but I find it easy to use.
The only downside to Cal is the monthly view -- it's not informative, and you can't tell by just glancing at the screen how many events you have, or when they are. That makes scheduling a new event tough, because you have to tap each day to see your schedule. There's also no weekly view.
What's great: The app's design is impressive, and the layout makes it easy to see what's on your agenda.
What's not: There's no weekly view, and adding new events could be a lot more fluid.
Sunrise
Free, iOS and Android
Like Cal, Sunrise has a minimal, clutter-free look. The main view shows you a list of upcoming events in the next week with a minimized month view at the top. There's a small arrow at the bottom left, which helps you navigate -- just tap it at any time to jump back to the current date. There's also a weekly view, which shows three days at a time, with colorful blocked-off chunks of time for each event.
Sunrise does its best to categorize your events, paying attention to the keywords you use to give each event a little icon. For instance, the word 'class' gets you an academic cap icon, while 'yoga' or 'workout' shows a dumbbell. It's a small touch designed to keep you organized.
What's great: The clean design is appealing and clutter-free, and it includes several different views for checking your schedule.
What's not: The monthly view is almost useless, as it doesn't show if you have any appointments scheduled on each day.
Tempo
Free, iOS only
This recently updated iOS calendar seems simple at first glance, but there's something bigger happening behind the scenes. The app syncs with your calendars, like every other app on this list does, but it goes one step further to sync with your email too. It does that to find and add relevant conversations to your upcoming events. That's incredibly helpful if you need to check appointment details, or just see what your friend asked you to bring to the BBQ.
Tempo uses natural language processing to help you create a new event. You don't need to be precise, you can enter in 'Lunch with Sarah tomorrow at 1pm' or 'Pilates class every Tuesday at 6pm' and Tempo understands what you mean. The app will even let you know if there's a conflict.
What's great: The app's extras, including finding relevant emails, directly dialing into conference calls, and fetching your flight status, make it more feature-rich than its competition.
What's not: The weekly view can be messy and hard to read.
Fantastical 2
$4.99 £3.99 AU$6.99, iOS only
Fantastical 2 used to be an iPad-only app, presumably because the larger screen could more adequately display its great looking interface. Fortunately, the developers realized iPhone users could benefit too, and streamlined the interface to look great on the smaller screen.
Viewing your agenda is straightforward in Fantastical 2. At the top of the screen you'll find a five-day view, with events represented by colored dots. The app uses the same colors you have set in the iOS Calendar app to make it easy to recognize your various calendars. You can also turn your iPhone into landscape mode to see a more detailed 5-day view.
You also can add events using natural language. For example, typing 'Dinner with friends at 6 on Friday at The Diner' will create an event titled 'Dinner with Friends' at 6 p.m. on the next Friday, with a mapped out location for The Diner. Also of note, iOS Reminders integration means you'll get a notification for your events.
Overall, the ease of use when adding and editing events, along with the ability to view exactly where an event is and get directions to it are all features every calendar app should look into adding to their lists.
What's great: It has a way of making it fun to add and edit events, while making it easier to manage a hectic schedule and stay on top of your tasks with Reminders integration.
What's not: While it does have Reminders integration, it doesn't offer smart notifications that will give you advanced warning of traffic or switch routes to your destination like other apps offer.
Horizon Calendar
Free, iOS only
Horizon Calendar believes that the weather is an integral part of managing your schedule, and has a great way of integrating the outlook to match up with your plans. You can get Horizon for free, but there's also a Pro version that adds extra features, which goes for $4.99.
With this app you can get your day's schedule at a glance, and each of the events on your calendar shows the forecasted temperature on the right side of the event. If you want more information about the weather, you can touch the icon to see the details.
Like some of the other calendar apps in the category, Horizon lets you use natural language to set up events and reminders. You also can quickly switch between day, week and month views to see what your schedule looks like at a glance.
Best Calendar App For Families
What's great: The interface lets you use gestures to quickly navigate between views.
Best Calendar App For Iphone
What's not: There's no map integration in the free version, so you'll have to spend the 5 bucks to get notifications about your upcoming event such as weather changes and traffic info.
SolCalendar
Free, Android only
SolCalendar gets my vote for the most whimsical calendar I've found. Along with the typical calendar features, including a monthly view and an agenda, SolCalendar comes with tons of extras to help you plan your week or add some flair to your events.
You can turn on weather reports to see the current and upcoming temperature and conditions for the next week. There are several unique sticker packs included (and more that you can download) that you can add to your events for a dose of personality. Lastly, the app can sync with your Google tasks and you can create new to-dos.
The app also uses gestures to navigate, which can be confusing at first, but they are easy to learn. The one you'll use the most is in the agenda view, which shows a few days at a time. Swipe two fingers away from each other on the screen to open the daily view, which gives you an hour-by-hour breakdown of your day. Swipe two fingers toward each other to go back to the weekly view. You can also tap and hold any event to edit, copy, move or delete it.
What's great: SolCalendar's stickers and weather reports add more context to your events.
What's not: Navigating the app can be tricky at first.